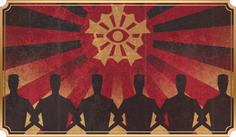 TOKKOH is an organisation of special police force, serving under the government.
In 1910, an incident of high treason occurred. Lots of people were arrested and killed as they were planning an assassination against the Meiji Emperor. Consequently, the Home Office established the Special Political Police.
The Empire of Japan couldn't afford to miss anyone that threatened the government. Thus, TOKKOH was established to control the communists, liberalists and anarchists that were against the government. To protect the peace of Empire of Japan, the Special Political Police "TOKKOH" exists. Asakusa 12-Story building is a symbol of highest place, Asakusa.
The 12-Story Prison is the home of TOKKOH in the basement of the building. We exist to catch rebels and to make them confess their crime. We are TOKKOH. We have to expel anyone who can threaten the Empire of Japan.